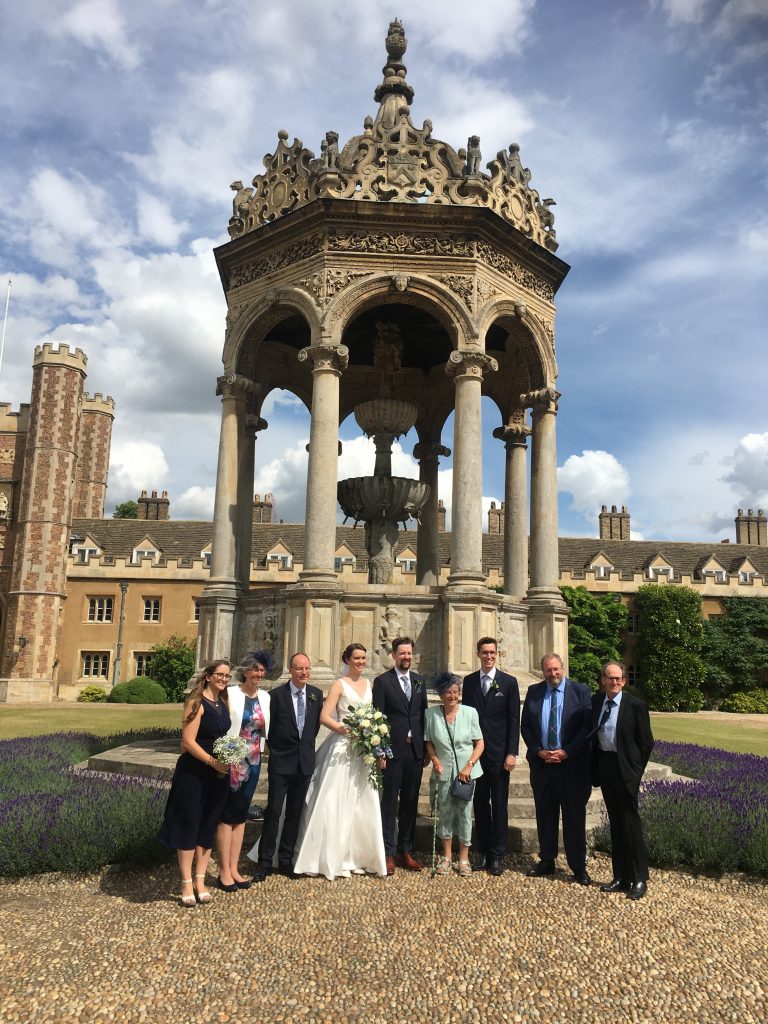 Saturday, June 25th, saw the much-postponed wedding of my cousin Helen Charlston, to Michael Craddock, finally taking place. In the truly sublime setting of Trinity College Cambridge, no less!
Getting into Cambridge and parking, etc, can be quite tricky these days. I'd assumed we'd park in the Park St car park, near The Round Church. But that's been shut! Due to be demolished and re-developed, apparently.
In the end things went smoothly enough. We allowed plenty of time, and were very lucky to arrive and find someone leaving the otherwise totally full Shire Hall car park. We could've walked from there. But Teresa, in new heels, was adamant that we take a taxi.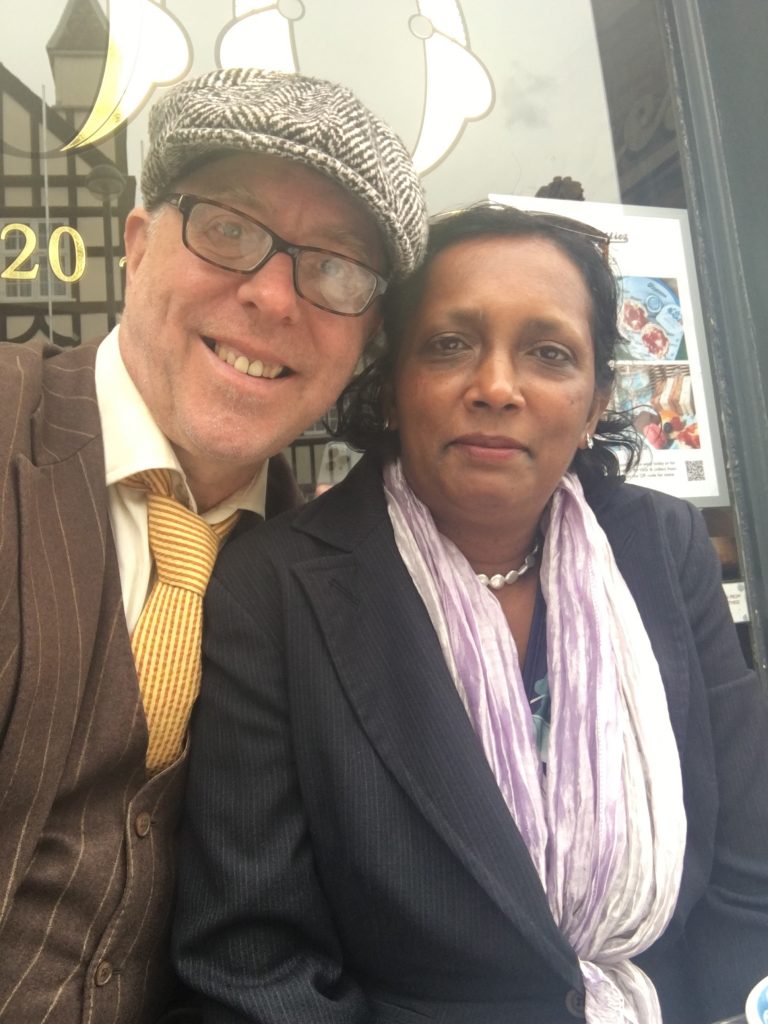 This we duly did. And we were dropped off just outside a new(-ish?) branch of Fitzbillie's, where we had a latte and a bacon sandwich. Mmm… scrummy! We really ought to have had at least one of their legendary Chelsea buns. But with a big wedding meal in wait, we thought it best not to.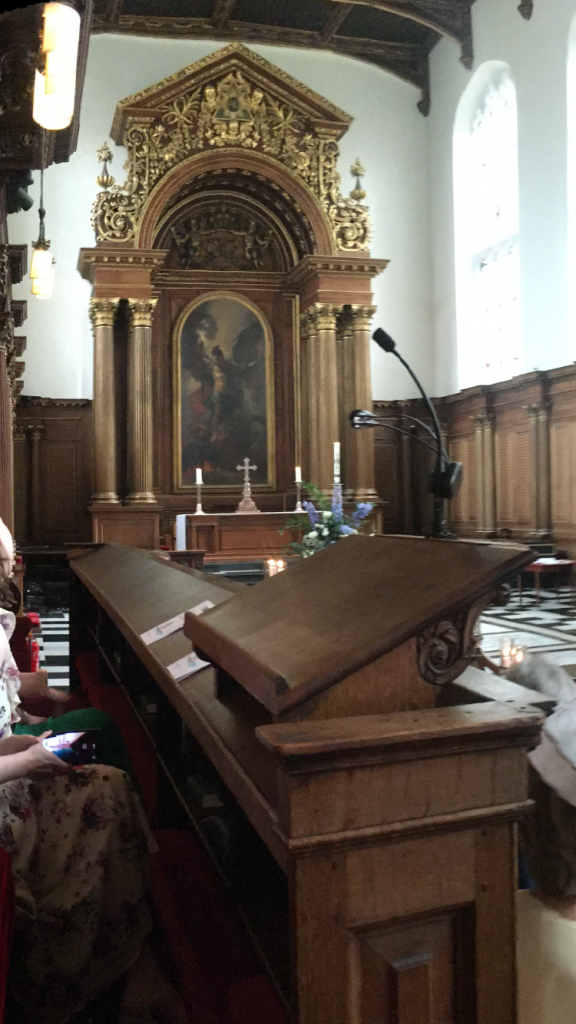 None of my photos (all taken on my old iPhone) of the chapel – the 'pano' pic I took is so glitchy I'm not sharing it – do the setting justice. Which is a pity. What a glorious venue for a wedding! And apparently Trinity very rarely grant anyone the privileged permission to use their facilities for weddings. So, quite how Mike and Helen wangled it, despite being College alumni, I don't know.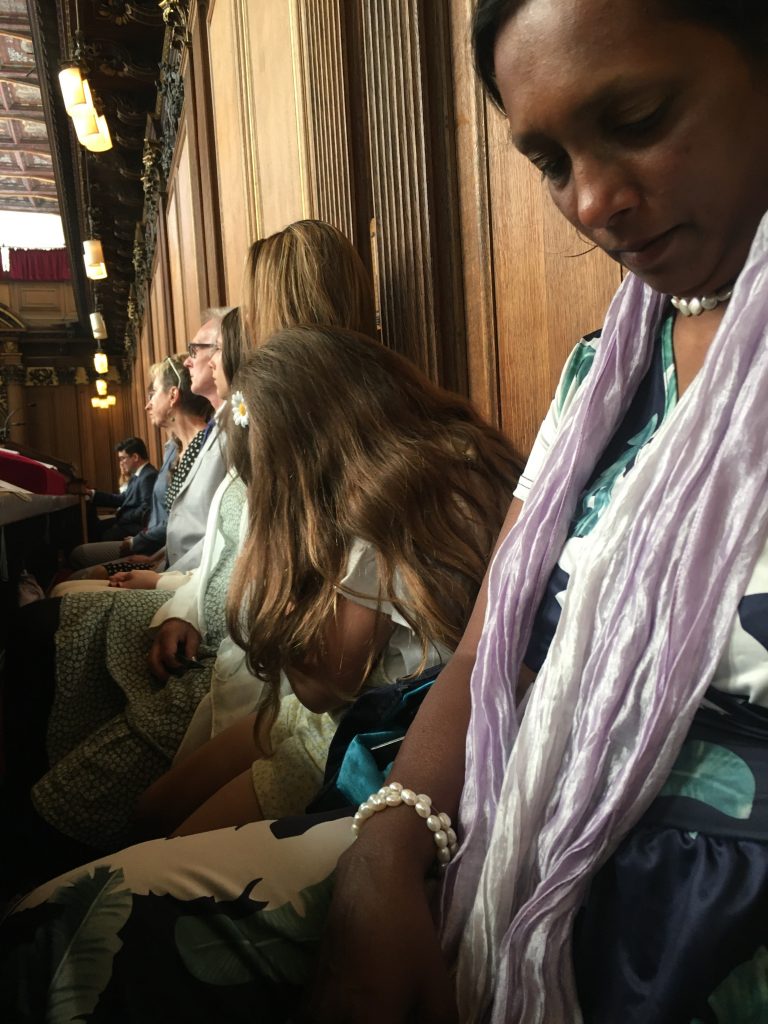 The ceremony and readings were a perfect fit for the venue. And made the occasion feel very special. Hannah King's Maya Angelou reading struck a different note to the other more trad' Christian ones. Was that down to Angelou's words, or King's own allure/charisma?
My biggest regret of the day is opting not to record the 40-part performance of Thomas Tallis' Spem In Alium. It's a piece of music I adore. And not what one expects to hear at a wedding! And it was a terrific performance. Owain Park really milked the final chords, almost like a 'big rock ending'. Powerful stuff!
Perhaps unsurprisingly, given that Helen and Michael are both pro' singers, the music during the ceremony was tremendous. From the organ parts, kind of what you do expect at a wedding, to the baroque ensemble with recorders and viol de gamba, and the anticipated Gesualdo presence, right up to the massive and less obvious Tallis 'number', the musical aspect made a special day even more magical.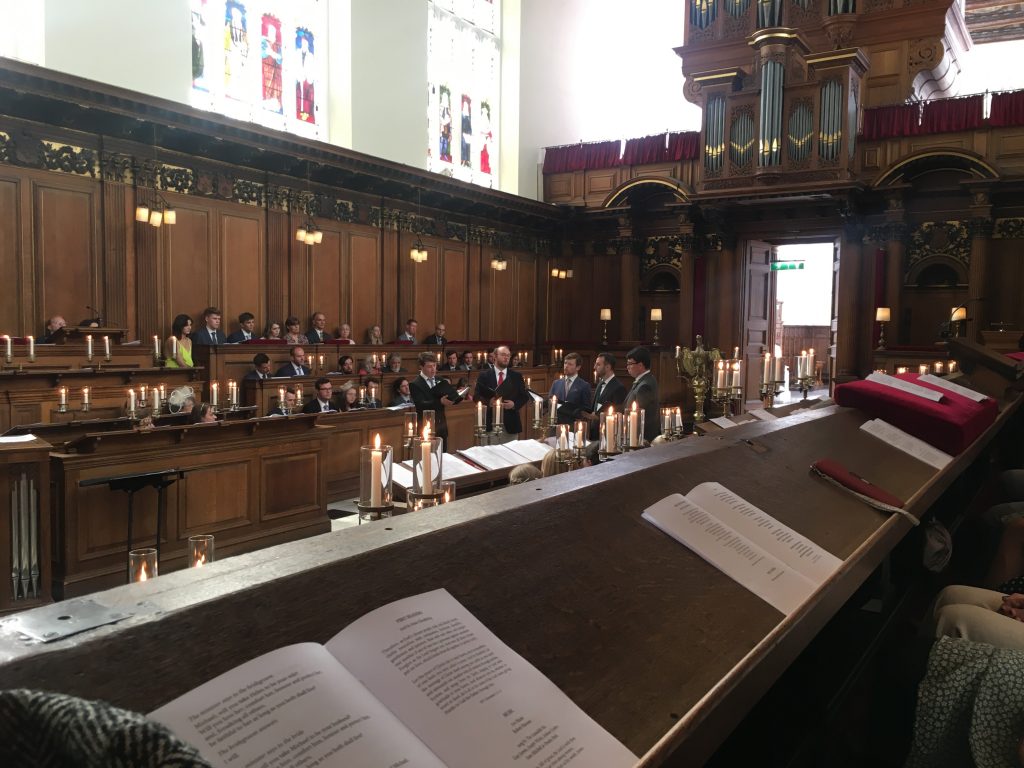 It was also interesting, for me, as a former Christian, to experience (again) the intensity of High Anglican Christianity, in its rich and powerful religious form. I was never in this sort of church, growing up (Baptist and Evangelical, etc). It's weird, when one is amongst a flock who know their hymns!
Some aspects of the religious side of this day – and for some it's doubtless just rites and tradition, for others, perhaps, a staunchly held belief? – were really lovely, beautiful even. But whenever confronted with the conformity of faith part of me rebels and is deeply troubled. But I set that part aside for Mike and Helen's (and everyone else's) sake.
After the wedding ceremony, which was really lovely. There was a brief hiatus, before drinks and canapés in the normally off-limits Fellows' Garden. How often I would look into this space from the bridge over the Cam nearby, and wish I might be amongst the elect. And on this day, we were!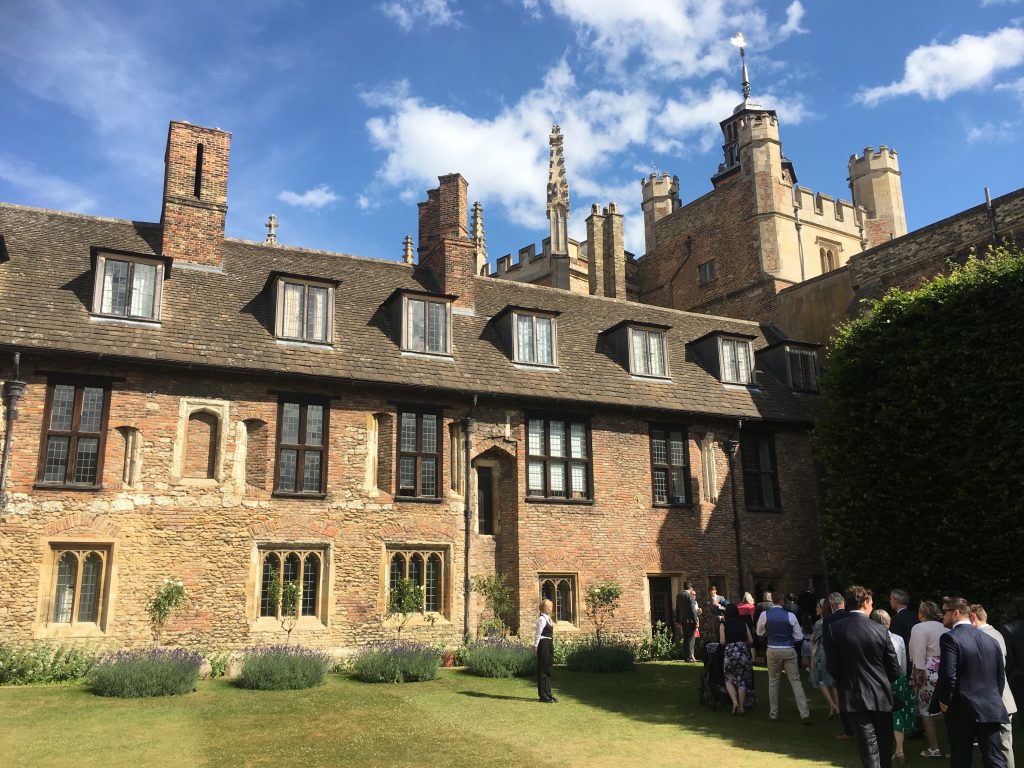 I made a conscious effort to chat with folk I didn't know. I started with some of the singers and musicians, feeling that perhaps we might have some common ground. Not just in knowing Mike, Helen, Terry, etc, but even as musicians!
Later on, at the fabulous dinner, in the very opulent dining hall, this theme of chatting with strangers continued. And it was actually one of the really nice things about the day as a whole.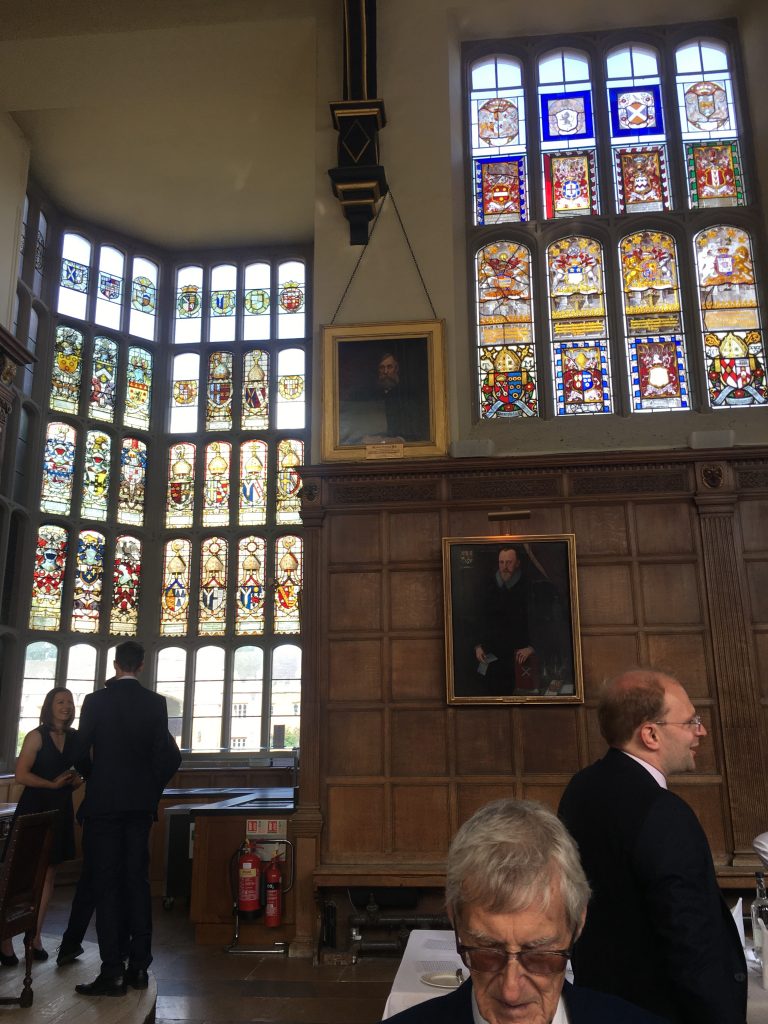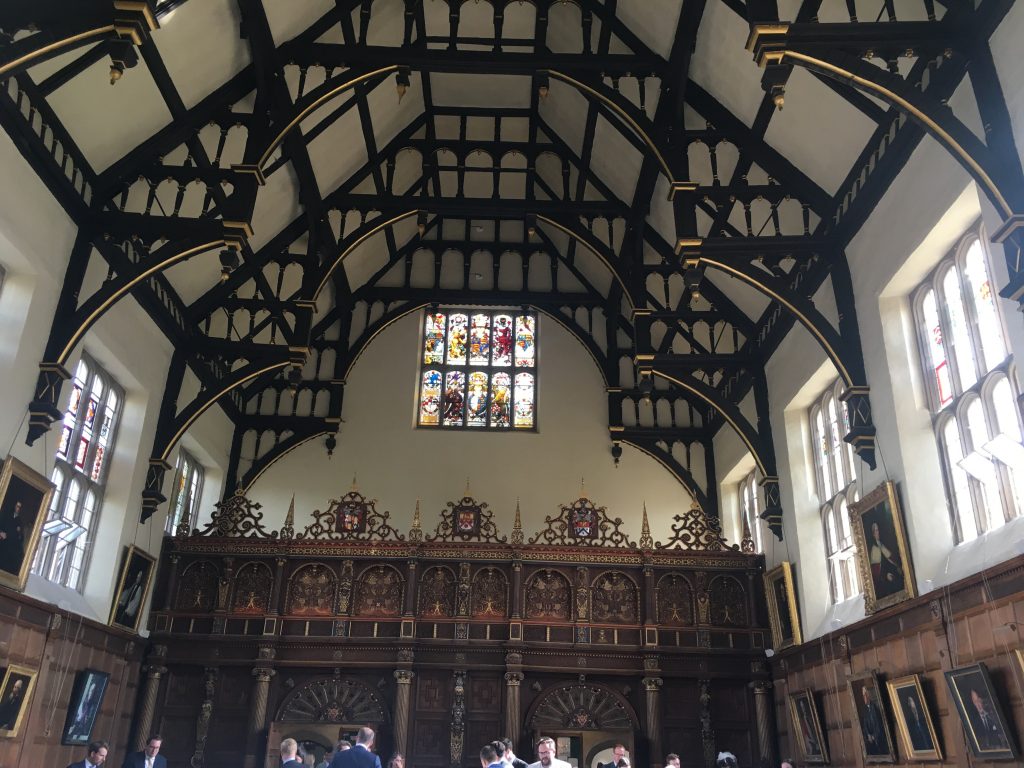 And by some providential accident, Teresa and I were at the 'top table' end of one of the three massive rows of tables. With a terrific view of everything. And, 'by 'eck!' the chow was top-notch. As was the wine. The whole meal passed in a long rapturous reverie of chat and delicious grub!
We were still 'in hall' and 'at table' when the time we'd expected to leave came and went (my mum and Hannah and co did leave at this point). But we were enjoying proceedings, and opted to tag along to The Cambridge Union, for more drinks, dancing, and whatever.
At this point, I did begin to flag. I managed a beer, and a little bit of dancing, before more or less flaking out! Some food arrived. Which was great, and very nearly put the pep back in my step. Teresa wanted to stay longer. She was evidently less washed out than I felt! But in the end, probably around 10pm, we bad the happy couple and the few family and friends we knew good night.
By the time we got home we'd been out over 12 hours. That's not something, in the social way of things, either of us are used to any more!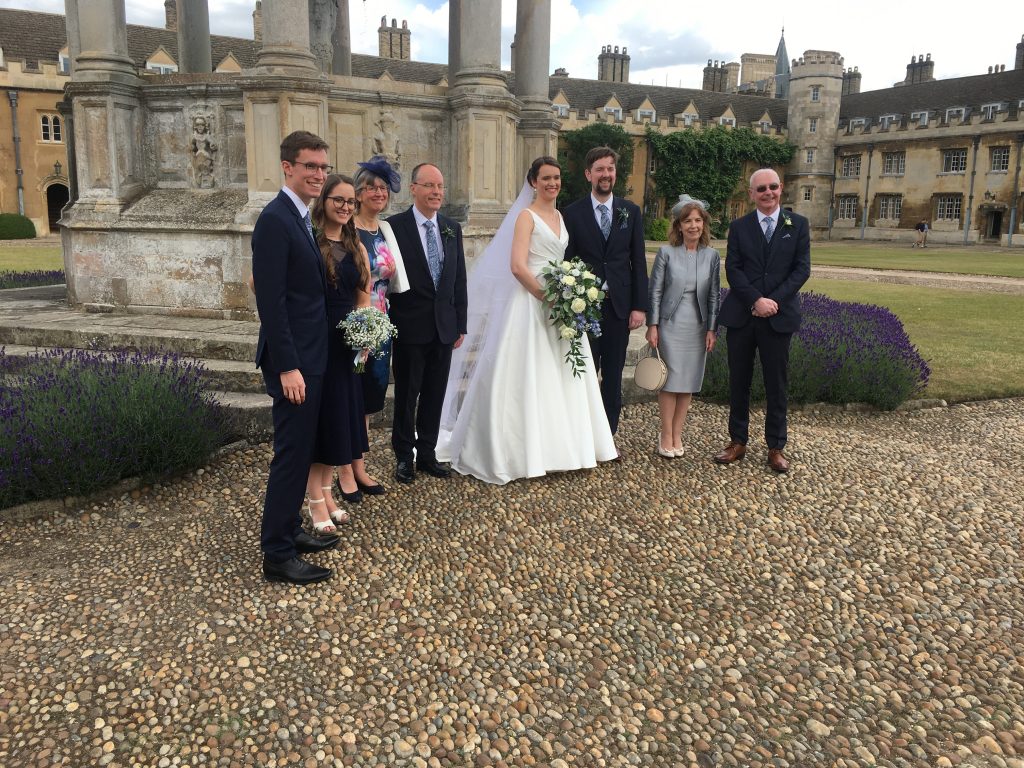 Anyway, to finish… if you have a beverage to hand, raise it, and toast the happy couple, Helen and Mike!